Thanks to the thoughtful and kind suggestion made on this site by a fellow mother who lost her son, we were connected to a grief support center called The Christi Center here in Austin. Tonight we went. As everyone told us, we're still in the shock phase. I agree. Everything is surreal. It feels like a fog many times and I feel so bad that sometimes I'm not quite sure what I'm saying in conversation or I try to put the dishtowels in the fridge (but maybe that's Maya's fault because she started eating the cabinets while I was doing laundry).
The caring and kind people we met tonight welcomed us and were willing to share their journey and story so that we could see that yes, the pain will never leave you, but that doesn't mean you live without hope. I didn't know quite what to say, I don't remember what I said. It was really really hard saying the words that Kai isn't here, I realized I hadn't had to say that out loud to anyone yet. I could barely whisper it.
But you know what, Love wins again. The way they have everyone introduce themselves is by saying, I'm Aki, and I'm here for the LOVE of my son, Kai. The LOVE. It hurts so much because we love them so much.  And I'm never, ever going to stop loving Kai. And to be honest I'm not sure what that's going to look like — maybe it will be everchanging. But, it's made me realize, or maybe hope, that it doesn't have to be awkward or taboo to celebrate someone who is gone. I think I've never known what to say when someone's experienced a loss – and the people we met tonight who could definitely understand what we felt also admitted that truly there are no words. But, we can love and care for each other – and when I think about it like that, it seems so simple. When we experience grief, anxiousness, suffering, joy, triumph, success and all of the other emotions we go through in a lifetime, we need/want love and care from others in whatever form that may take. This may be a crowd of friends or simply the ultimate, supernatural peace of God in a prayer when we don't even know what to pray.
I hope that it's ok to share Kai with others for the rest of my lifetime and keep him alive in my heart and maybe I just write all this to let you know that even if you may see tears in me or anyone else that is grieving, it's just because I love him….and that's a good thing, it's bigger than the pain….. it means Love wins.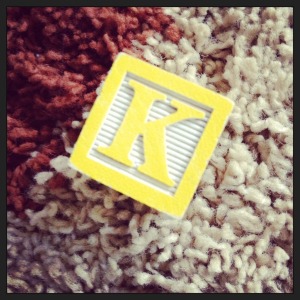 I feel like God had Kai give us a little love today because He knew we were struggling…. Maya was playing with Kai's alphabet blocks and I heard her knock a bunch to the ground. She then army crawled her way over to me and dropped one at my lap….it was the letter "K". She smiled at me knowingly and I smiled back and I could feel Kai smiling too.