On Maya's 3rd birthday, a milestone we were so thankful to celebrate, as I was putting her to bed, she suddenly became inconsolable – like that awful hiccuping crying. When she finally said why, it was because she wanted her brother. I asked her if she wanted to see and hold his picture and she threw it and said no, I want him to be here, I want him to play with me. I want him come back from Heaven… I felt a familiar feeling – helplessness – helplessness to alleviate her suffering. It was the same feeling I often felt with Kai because what I saw was that this is part of her burden, part of her cross to bear in this life.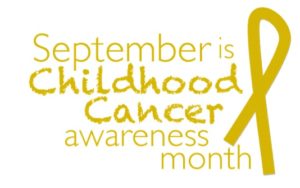 September is Childhood Cancer Awareness Month and as I mentioned last year, it's also a month to raise awareness about many, many other burdens that people must carry. I struggle with if or how to say anything during this month. In some ways I feel I must – but I also feel torn because while yes, we have experienced the burden of having and losing a child to cancer, each of you are carrying the weight of suffering that also deserves awareness. Natural disasters, the daily challenges of managing mental illness or physical illness or an illness no one can diagnose, PTSD, paralysis, poverty and financial stress, abuse, crime, discrimination and war. The list unfortunately goes on and on.
Yes, September is Childhood Cancer Awareness Month and for the 25,000 children around the world who will be told they have cancer this month, and the harsh reality that a quarter of those won't win their battle — that reality is absolutely terrible and horrific. I wish those children and families would never have to face that reality and carry that burden. But I also know that each of you face your own suffering.
Additionally, it seems we are in a time where our country and our world seem to be more focused on what divides us than what unites us. We're closing in on ourselves, shutting others out, becoming less of a community. Social media, the news, every day conversation seems to be filled with more divisive talk than supportive talk. While our views and our lives all differ, our hearts can still be broken. And some burdens are more "acceptable" to share or to rally behind – others are more subtle or maybe less understood. And the obvious truth is that we will never be able to alleviate all of the suffering in this world. So, how do we manage all of this?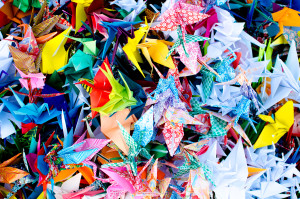 As we unexpectedly had to face planning Kai's memorial celebration, we came home from the hospital to hundreds and hundreds of origami cranes folded and sent to us by friends, family, and those we have never met. Origami cranes are a Japanese symbol of hope for healing and it can be a tradition to make these during challenging times. The power of that message of support spoken through the rainbow of cranes provided an almost tangible lift to us as if we could truly feel the message from each of the creators of the cranes that said, we're here to help carry your burden. We've kept all of them and keep them hanging in our house as a reminder of hope and the power of community and what God has provided to us.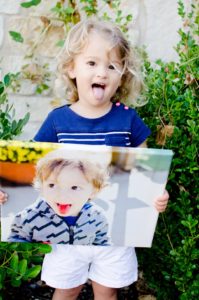 During the time when Maya was inconsolable and she was sobbing in a ball on the floor, I remember searching helplessly around her room for something, anything, and prayed God please help me help her. I know I can't give her what she wants and bring Kai back, but I want to help her carry this weight. At that moment I saw the tail end of her favorite lovie sticking out with Kai's name standing out so bright – this lovie was with Kai when he passed and it has his name embroidered on it. I said Maya, Maya look- what does this say? It says Kai! And this is your favorite Kai monkey and I know you miss him and I'm so, so, so sorry he can't come back from Heaven. But God loves Kai and God loves you and I love you and you can hold and hug your Kai monkey and think of him and love him because he's still in your heart. I half expected her to throw the monkey at me like she did the picture, but she looked at his name and closed her eyes and hugged that monkey so tight as I held her.
So I feel like in this month, Childhood Cancer Awareness month, I think I just want to encourage us to step back from the negativity, from the divisiveness, and just remember we aren't in it alone.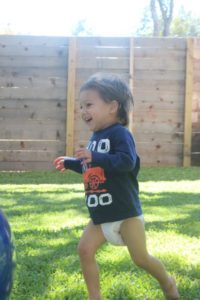 While we each carry our own unique set of challenges, in the end each one of those burdens can cause suffering and for our heart to hurt. And even though we can't cure it, we can at least try. You'll be amazed at the power you hold to help someone else. We sure as heck saw your strength.
If you're interested in how to help kids and families facing pediatric cancer, check out St. Baldrick's Foundation or Alex's Lemonade Stand. Last year's post including some photos of Kai's journey can be found here.