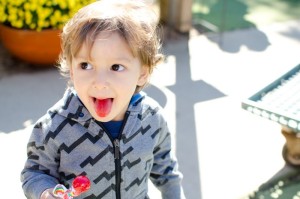 In June of 2011, a little boy with a larger than life spirit entered our lives. Kai Alexander rocked our worlds and turned them upside down and we are forever grateful. At the age of 2 1/2 years old, our son Kai was diagnosed with Atypical Teratoid Rhabdoid Tumor (ATRT), a very rare and very aggressive form of brain cancer.  Within just two weeks of discovering the tumors, Kai passed away. And why Sun's Out, Kai's Out? Well, when Kai took his last breath, the sky that had been filled with clouds opened up with a bright light as the sun shone into his hospital room onto his face – the darkness of his disease was replaced with the light of his new life. So whenever the sun is out, we think of our little Kai Kai and we tell little Maya, "Sun's Out, Kai's Out!".
Kai was a huge ball of energy, silliness with the start of a dry sense of humor much like his dad's, and a huge heart for helping others (I know, you're probably thinking at 2, helping others? But he amazed us every day with how he would think of others). With his dark black eyes, the stink face that could change in an instant to the most beautiful smile, his Buddha belly, and his unquenchable thirst to never stop moving, exploring, we know now that Kai was living his every moment to the fullest.  We celebrate and honor his life here, and invite you to get to know our Kai monkey and the lessons we continue to learn through this journey.
We also hope to raise awareness about brain cancer, bring together community, and provide resources to others. We recognize that so many opportunities exist to help lift up each other as we journey through life and we hope that somehow, someway we can help others.
If you are reading this site going through a similar journey as we have and would like to talk, please don't hesitate to contact us at sunsoutkaisout @ gmail dot com. We truly would be honored to hear from you.
To get to know our buddy Kai a little bit, you can check out the video below that was played at his celebration service. We love you, Kai!