It was a beautiful day today – the sun was out and we made the most of it by going on on walks with the family, taking out the biggest kite we've ever seen (thanks Richard!) and spending time at the "blue park" as Kai called it where Maya and her cousins made many, many laughter filled trips up and down the slides. A day of mixed emotions – so incredibly much to be thankful for, our cups truly overflowing, but simultaneously a stark emptiness felt from Kai's absence and the pain still resonating so deep. Shawn said it so well – everything now to some degree feels broken and incomplete and I think that's just us feeling the reality of this world.
But we go to bed now, with hope and joy in our hearts even if a tear may come along and we are so, so, so thankful for today and the moments we've been lucky enough to experience in this life.
Tonight we wanted to include Kai in our Christmas celebration. Kai loved Christmas lights and sparklers, so it seemed only fitting that if Kai's up in Heaven celebrating, I'm pretty sure he found a way to probably find the best sparklers ever. So we read aloud the poem below (thank you Kathy for sharing this on fb) and then lit up sparklers to celebrate Christmas with Kai. And thanks to Aunt Caroline, Uncle Colby, Uncle Michael and Shawn, we had some fun with "sparkler" writing that maybe, just maybe Kai somehow could see.
We wish you all a wonderful holiday and thank God for you and the hope you bring us each day.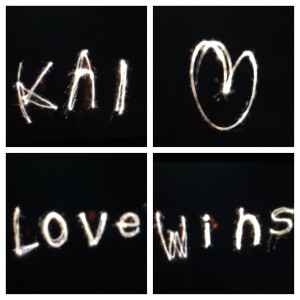 My First Christmas in Heaven (Author Unknown)
I see the countless Christmas trees
Around the world below,
With tiny lights, like heaven's stars,
Reflecting on the snow.
The sight is so spectacular,
Please wipe away that tear.
For I'm spending Christmas
With Jesus Christ this year.
I hear the many Christmas songs,
That people hold so dear,
But the sounds of music can't compare,
With the Christmas choir up here.
For I have no words to tell you,
The joy their voices bring.
For it is beyond description,
To hear an angel sing.
I can't tell you of the splendor,
Or the peace here in this place.
Can you just imagine Christmas,
With our Savior, face to face?
I'll ask Him to light your spirit,
As I tell Him of your love;
So then pray for one another,
As you lift your eyes above.
Please let your heart be joyful,
And let your spirit sing.
For I'm spending Christmas in Heaven,
And I'm walking with the King!
I know how much you miss me;
I see the pain inside your heart.
But I'm not so far away,
We really aren't apart.
So be happy for me, dear ones,
You know I hold you dear,
And be glad I'm spending Christmas
With Jesus Christ this year.
I send you each a special gift
From my heavenly home above.
I send you each a memory
Of my undying love.
After all "love" is the gift,
More precious than pure gold.
It was always most important
In the stories Jesus told.
Please love and keep each other
As my Father said to do,
For I can't count the blessings
Or the love He has for you.
So have a Merry Christmas and
Wipe away that tear.
Remember I'm spending Christmas
With Jesus Christ this year!
-Author Unknown