My heart and mind have been swirling and churning and aching these past few days and honestly I'm not quite sure yet what all of those thoughts and emotions are. I feel restless but unsure what to do or where to go. After pacing outside for a little while it just came to me to come and sit in Kai's reading chair where we spent each night reading a book, or two, or three, or "last one", "one more time". 🙂  Him in my lap or sometimes he'd insist we squeeze in side by side with Cat and owls and bees as well. I felt compelled to write on here but I've started and restarted many times and nothing feels quite right that I should post.
So I think maybe for now, I will just share a video of Kai Kai and also I wanted to be sure and say thank you so much for all of you who came out to the Head for the Cure Race in Dallas this weekend. Thank you so so much for your support and being there for Team Kai! We appreciate it so very much.
I had Shawn pull up the videos on the tv today so I could see him. I needed to hear his voice and see him move and jump and play and laugh and squeal and run around. I needed to see his life. When Maya woke up we set her in her chair so she could see the Kai videos on the tv and she squealed and smiled and clapped and kicked her legs. To her it wasn't a video – she was with her brother and for a moment my heart swelled because I felt the joy of seeing the two of them "together" again.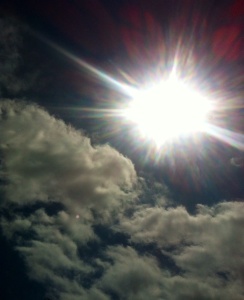 That feeling reminded me that Kai is still alive and that my heart is growing with more and more love for him and that his sister is growing in her love for her brother and knowing her brother. In the midst of all that is broken, set apart or distant in this world, in no time at all, it is all brought together by a memory of love that still remains and is growing and full of life.
So I share this little video of Kai – I think he's about 18-20 months old here (I don't know where to find the date tags on iPhone videos).
Thank you, thank you, thank you so incredibly much for all of your prayers, messages, support, and so many things that help lift us and carry us forward each day. Thank you so, so much.
Sun's out, Kai's out!  I hope this brings a smile and a little light into your day!